Dr. Dzifa S. Kpodzo
Associate Professor of Surgery, Plastic & Reconstructive Surgery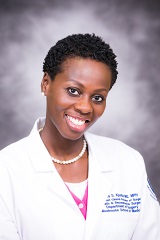 Dr. Dzifa S. Kpodzo is one of our newest additions to Morehouse School of Medicine (MSM) as a plastic and reconstructive surgeon in the Department of Surgery. In her role as an assistant professor she will be addressing the reconstructive and aesthetic needs of our community and taking an active role in the education and exposure of our residents and medical students to her sub-specialty.
As a native of Ghana, West Africa, Dr. Kpodzo also grew up in Germany, the United Kingdom, and Canada. After completing her undergraduate degree in Integrative Biology with honors at the University of California at Berkeley, she went on to complete a dual medical doctorate and master in public health at Harvard Medical School and the Harvard School of Public Health. Dr. Kpodzo continued on to complete her residency training at the Harvard Plastic Surgery Combined Residency Program where she also served as a chief resident. Dr. Kpodzo completed her fellowship in oculoplastic (eyelid surgery) and aesthetic (cosmetic) surgery at Paces Plastic Surgery in Atlanta and stayed to join us at MSM.
Dr. Kpodzo has always demonstrated a commitment to academics, service, and teaching. She received the Hollis L. Albright MD '31 Award for outstanding academic performance and commitment to service in a future surgeon. She had the honor of participating in 3 full face transplants during her residency training, and received recognition through the Partners in Excellence Award for Teamwork. She has participated in international healthcare missions to Ghana and Ethiopia, and she received an award from the American Medical Association Women Physicians Congress for her mentorship and teaching of medical students. She is a member of Delta Sigma Theta Sorority Incorporated and remains involved and active in the community in various ways.
Dr. Kpodzo's research interests are in clinical outcomes, healthcare disparities and quality improvement. She has always been highly committed and involved in the community, but most of all she has an unwavering dedication to providing her patients with the highest quality and most compassionate care possible.
Please join us in welcoming Dr. Kpodzo to Morehouse School of Medicine!